Join Us: Grand Opening of Port Farms' New Brewery, Poverty Knob Farmhouse Ales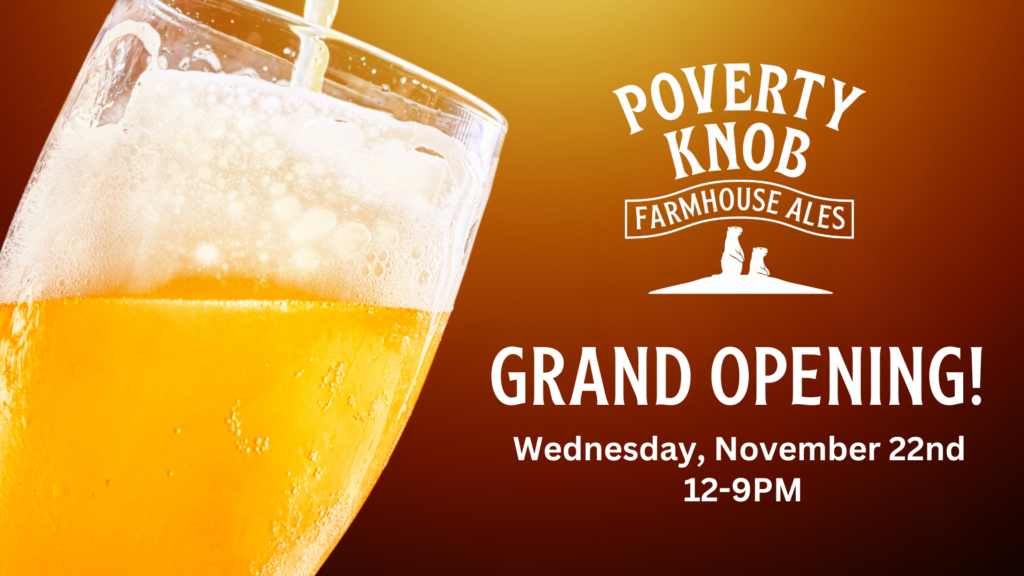 Join us in celebrating the grand opening of Port Farms' new brewery, Poverty Knob Farmhouse Ales!
Date and Location
Wednesday, November 22nd, 2023
12:00pm – Ribbon Cutting Ceremony, doors open immediately following.
2055 Stone Quarry Rd., Waterford, PA 16441
Read the full press release below.
"WATERFORD, PA – Port Farms announced the grand opening of their new brewery, Poverty
Knob Farmhouse Ales, taking place on November 22, 2023 from 12–9PM. The brewery will
begin normal business hours following the event.
Jerry Port always had a dream of opening a brewery to coincide with the farm. With farming
being such a big part of his family's life, Jerry always loved the idea of being able to incorporate
crops grown on the farm into the beer making process.
"We are excited to see our family's dream come true of opening our own brewery," said Casey
Port, Chief Operations Officer. "We hope our community will come out and celebrate our
opening and join us for a ribbon cutting ceremony beginning at noon. We will be serving our
very own beer made with local ingredients as well as locally made wine," said Port.
Guests can enjoy nine beers and one seltzer on tap, crowler fills to go, sign up for the Mug Club
and purchase brewery merchandise. The kitchen will also be open offering a limited menu for
the event. Jesse James Weston will be performing live music from 5-8PM.
"We cannot wait to share another part of the farm with our community. We'd love for you and
your families (pups included) to join us for this celebratory event," said Port.
Poverty Knob is located about 20 minutes south of Erie, PA at 2055 Stone Quarry Road,
Waterford, PA 16441. For more information, please visit www.povertyknobfarmhouseales.com.
Regular hours will begin following the grand opening: Monday & Tuesday: Closed, Wednesday &
Thursday: 12PM-9PM, Friday: 12PM-10PM, Saturday: 11AM-10PM and Sunday: 11AM-8PM. The
brewery will be closed on Thanksgiving but open again on Black Friday."