The Next Chapter: A New Look for the Erie Regional Chamber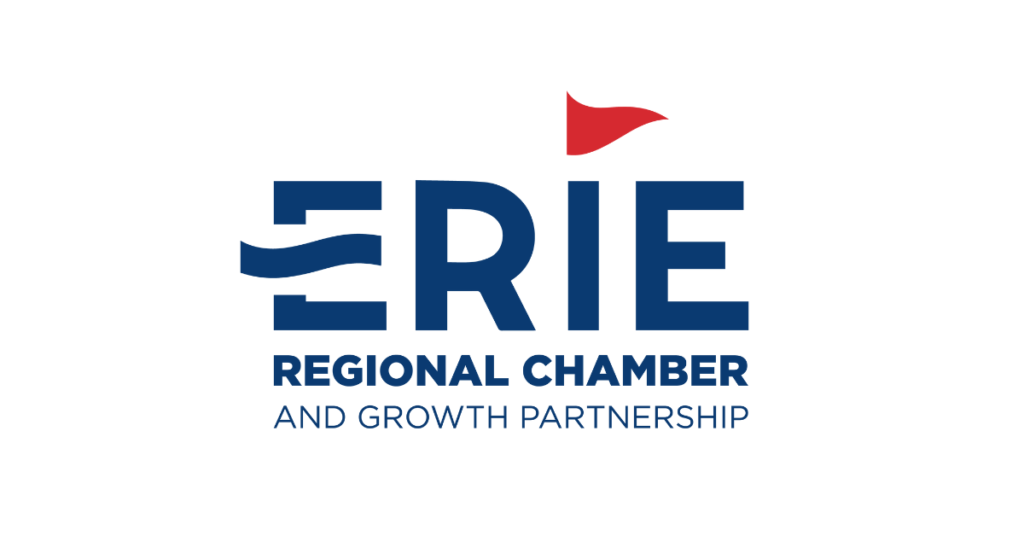 Today marks a leap forward for the Erie Regional Chamber and Growth Partnership (ERCGP) as it unveiled its refreshed brand and upgraded website. This transformation represents a significant milestone, reinforcing the organization's dedication to better serving the Erie community, members, and businesses.
ERCGP worked with member GemCity Creative to bring a modern and refreshed look to the organization and re-establish its brand identity in the marketplace.
"I wanted the final product to embody the strength, innovation, supportiveness, boldness, relevance, and inspiration of the organization," said Chris Schroeder, owner of GemCity Creative. "The logo subtly incorporates water symbolism, underscoring Erie's connection to the lake and the chamber's commitment to adaptability and progress."
The refreshed brand was the catalyst to enhancing the organization's website as well, of which the first phase is now complete. The dynamic platform will provide easier access to business news and resources for the community across any device. It also showcases expanded information about chamber services and offerings, as well as the chamber's integral role in economic development within a larger regional consortium of strategic partners focused on enhancing Erie's growth.
James Grunke, President, and CEO of the Erie Regional Chamber and Growth Partnership, stated, "Our website is a natural extension of our team, serving as a resource hub for regional businesses and those seeking to invest in Erie. As a prominent advocate and catalyst for economic growth, we are committed to providing relevant and timely information to support our members and the broader business community."
The chamber collaborated with member DoneForYou to bring the new functionality to life, with plans to expand the resource and news center in the coming months.
Jason Drohn, owner of DoneForYou, stated "Staying relevant and modern is vital to meet member expectations and enhance the user experience — especially in today's rapid-paced digital world where one-click reigns to buy, sell, or find what you need. We are determined to deliver more for chamber members, providing them with essential resources at their fingertips."
The member portal will feature an improved user experience, offering new features for online bill payments, event registrations, and member-to-member virtual networking. The website's resource library will expand over time, offering valuable insights from regional subject matter experts to accelerate business growth.
Lesley Ridge Allen, Vice President of Business Engagement, emphasized the significance of the website in showcasing Erie's positive and future-forward initiatives. She said, "This central hub demonstrates the private sector's commitment to investment, development, and success, providing valuable resources to the business community while highlighting the best of Erie. This is just the first of several phases to expand and elevate eriepa.com to serve regional, national, and global business."
The Erie Regional Chamber and Growth Partnership invites its members, businesses, and residents to explore the refreshed brand and website, a reflection of its dynamic vision for a thriving and prosperous Erie.
About Erie Regional Chamber and Growth Partnership
The Erie Regional Chamber and Growth Partnership is dedicated to promoting economic growth, advocating for businesses, and driving community prosperity in the greater Erie region. Established in 1847, the Chamber serves as a catalyst for local businesses, fostering an environment where companies can thrive and make a positive impact on the community.
About GemCity Creative
Founded in 2021, Gem City Creative specializes in "bringing brands to life". Like gems, businesses are multifaceted, but will only stand out if their unique characteristics are brought to the light. Our unique process has enabled businesses to elevate their brand stories by delivering top-notch branding and design at affordable prices. We take pride in our work, such as the animated content we developed for Widget Financial, the mural decals we created for Altair Real Estate, and the featured dog toy package designs we crafted for One Leg Up Pets on the show Undercover Billionaire. To learn more visit: www.gemcitycreative.com.

About DoneForYou
Based in North East, PA but serving clients globally, Done For You is a full-service funnel marketing agency that specializes in helping businesses between $500K and $10MM in revenue double their business in 12 months or less through Internet traffic channels, sales optimization, and product flow. To learn more visit: www.doneforyou.com.

###